Email Marketing is an integral part when it comes to doing business online. Having a really good and feature-rich Email Marketing Software will help you to send personalized custom emails and track the engagement as well.
In this article, you will find the best email marketing software to use in 2023. We will go through all the important features and pricing sections of each of these tools to find the best one.
It's no secret that email marketing is the best way to reach people and bring them back to your website for more information and purchasing. And it's a great way for you to reach customers without spending a dime on paid advertising!
Almost all the services mentioned in this guide come with powerful automation options that will help you to get things done quickly with the best results.
As per Litmus, it is estimated that a marketer gets $36 return for every $1 spent. That is 1:36 ROI.
What is the Best Email Marketing Software?
Now that you know the basics of email marketing software, let's see which one to choose for your business.
This guide will help you to:
Find the best email marketing software
With maximum features at affordable price
There are various areas that one should focus on or do research on before selecting an email marketing software. This includes the features set, pricing, automation capabilities, split testing, personalization, templates, reliability, technical support, ease of use, and more.
You don't have to worry as I have done all the necessary research to review and rank the best email marketing software.
Sit back and go through the list to find the one that suits your needs and budget.
1. ActiveCampaign
With powerful automation features, ActiveCampaign is the best email marketing software on this list. It is a powerful email marketing, marketing automation, and CRM tool that you can use to get better conversion rates.
The best part about ActiveCampaign is the fact that it allows you to send highly personalized emails targeted to each person's interests. This level of customization definitely allows you to launch a campaign with a personal feel.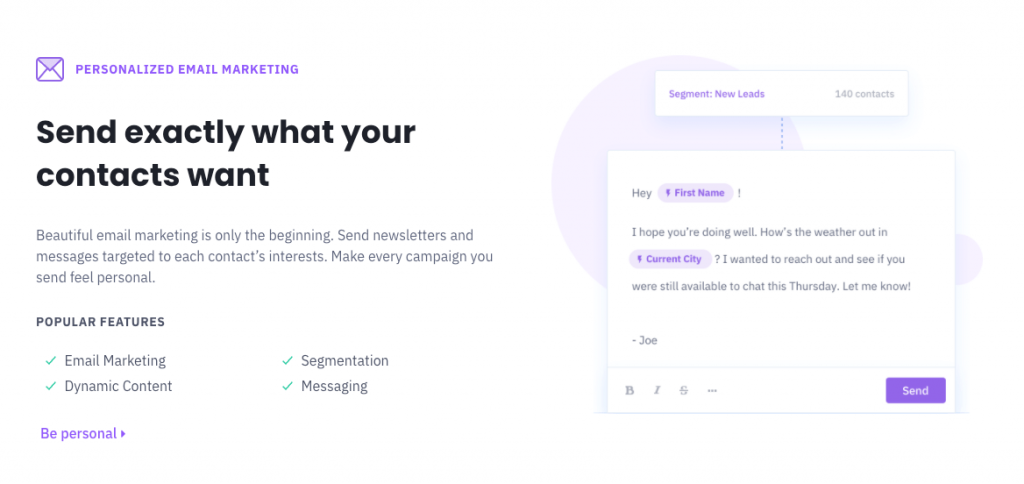 You can easily connect ActiveCampaign with more than 850+ other services including Shopify, WordPress, and more.
The Smart CRM comes with sales automation which includes things like CRM, Win Probability, Automation, and Lead Scoring.
Lead Scoring is a technique in which we award a few points to the users every time they perform some actions like opening the email, clicking on a link, or any other specified action. Once a minimum threshold of points is reached, you may move that particular user's contact to other departments where they might convert.
Email marketing is about sending the right email to the right person at the right time. ActiveCampaign's advanced automation and segmentation help you to send messages to your customers when it matters the most.
Pricing:
ActiveCampaign pricing changes depending on the number of contacts that you have.
All plans' pricing with 500 contacts is as follows: (when billed yearly)
Lite – $9/month
Plus – $49/month
Professional – $149/month
Enterprice – $259/month

Use the link below to get 14 days free trial.
2. Constant Contact
Constant Contact is an email marketing software targeted at small businesses. It helps you in email marketing, list growth, social media posting, and automation, of course.
Marketing automation, event marketing, and surveys are some highlighted features of Constant Contact. It also comes with in-depth reporting to track your campaigns.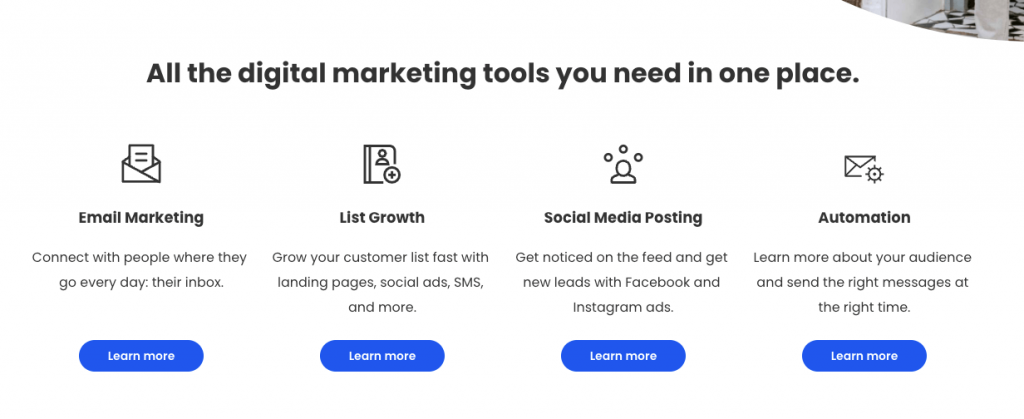 Constant Contact is also one of the oldest Email Marketing tools out there. It was launched back in 1996 and now the Endurance Group manages this email marketing platform. (Yes, the same company managing HostGator, BlueHost, etc)
There are some features specific to Constant Contact like Eventbrite that will help you to add event information to an email and track RSVPs.
Furthermore, marketing automation helps you in creating drip campaigns to target users based on their interaction with your emails.
Pricing:
Constant Contact pricing comes with two plans.
Core – $9.99/month
Plus – $45/month

All the plans come with 30 days money-back guarantee.
Click the button to get 60 days free trial.
3. Sendinblue
The 3rd email marketing software on our list is Sendinblue. If you are looking for an email marketing software that does not come with a limit on the number of contacts then Sendinblue is what you are looking for.
Even the free plans let you store an unlimited amount of contacts.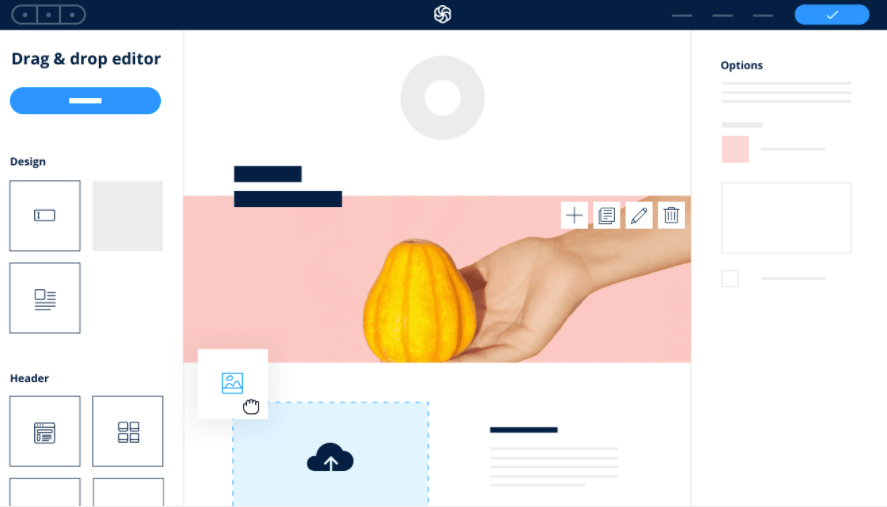 The basic plan comes with unlimited contacts and no email sending limit. If you are on a budget and need to send tons of emails then Sendinblue got you covered.
One of many things that I like in Sendinblue is the powerful marketing automation.
You get the option to set custom triggers based on the action a user takes. Sendinblue comes with an advanced automation workflow including lead scoring for an individualized experience for every user on your email list.
You can optimize the automation performance by using A/B split conditions as well.
In short, Sendinblue can help you in Email marketing, SMS marketing, transactional email, segmentation, CRM, signup forms, and landing pages.
Pricing:
Sendinblue comes with two basic paid plans. Both of them come with a minimum monthly email volume of 20K. The plan price increases as the email volume increases.
Free – $0/month
Lite – $25/month
Premium – $65/month

Check out Sendinblue if you want more at less price.
4. HubSpot
HubSpot is very popular when it comes to the online marketing space. HubSpot combines marketing, sales, customer service, CMS, and operations tools into one platform. The Marketing Hub section of HubSpot is what you need to capture leads and turn them into customers.
HubSpot is a customer relationship management (CRM) software company that provides tools for inbound marketing, sales, and service.
Inbound marketing is the process of attracting potential customers to your website by providing content they want to read, watch or listen to. HubSpot's inbound marketing tools include blogging, social media management, SEO, and conversion tracking. It offers a suite of software tools to help businesses grow their revenue.
HubSpot comes with a 99% email deliverability rate, which is a very high number in the industry.
The drag and drop email builder lets you create highly personalized emails based on their first name, device, or other parameters.
The built-in preview tool lets you view how the email will look like in different email clients like Gmail, Outlook, etc.
The drag and drop email builder makes it extremely easy to create a highly interactive and professional-looking email in less time.
Price:
Starter – $45/month (1,000 contacts)
Professional – $800/month (2,000 contacts)
Enterprise – $3,200/month(10,000 contacts)
If you are just getting started then start with HubSpot's free plan which offers about 2,000 sends per month. Once the limit is exceeded then upgrade to one of their paid plans.
5. GetResponse
GetResponse is a software-as-a-service (SaaS) email marketing platform that helps businesses increase customer engagement, conversions, and revenue.
The software offers features like integrated follow-up and automated outbound campaigns, social mailing lists, flexible mailings plans, and segmentation tools to help marketers manage their time more effectively.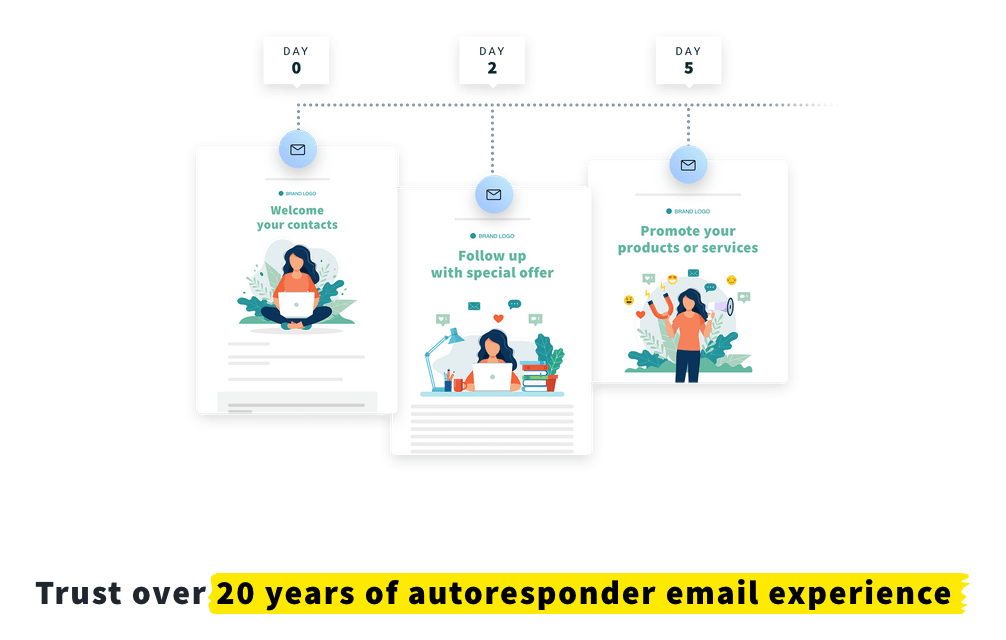 The dashboard on the GetResponse platform also includes a list of common campaign segments, so that you can quickly create your website's most popular pages.
One of the most loved features of GetResponse is Autofunnel. This can be used to attain your goals using predefined templates and sequences to generate leads and then sales.
Some of the highlighted features of GetResponse are Email creator, autoresponders, email analytics, AI-powered creator, drag and drop editor, automation flows, abandoned cart emails, polls and surveys, and more. GetResponse even comes with trigger-based SMS marketing automation too.
The free plan of GetResponse lets you save up to 500 contacts and send unlimited newsletters.
Pricing:
Basic – $12.3/month
Plus – $40.18/month
Professional – $81.18/month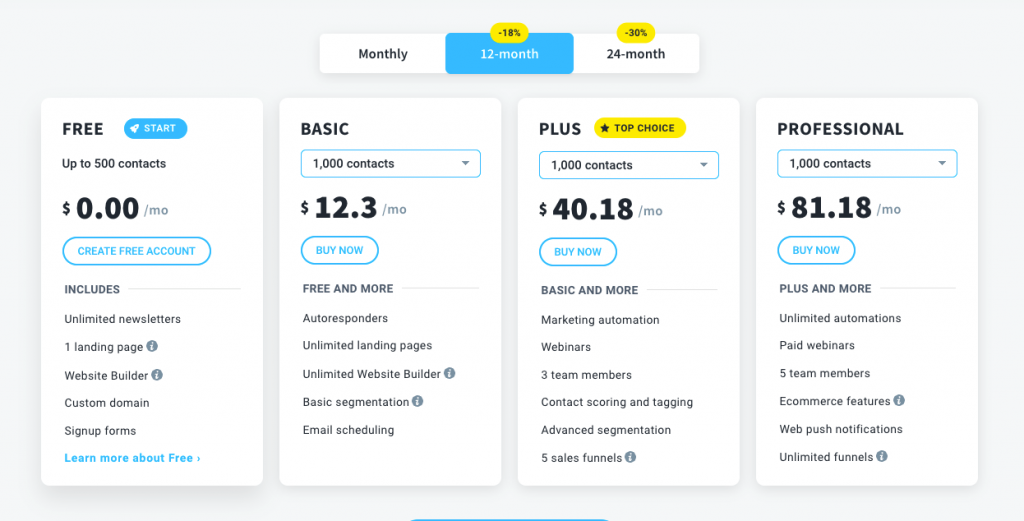 If you want to try GetResponse then sign up for a free account now.
6. Moosend
Moosend is an email marketing software that bundles everything you need to start or improve your email marketing campaign. The features on a two-week trial include email automation, customized templates, responsive design, and a social media integration.
Similar to other software listed on this guide, Moonsend too, comes with some really good automation settings.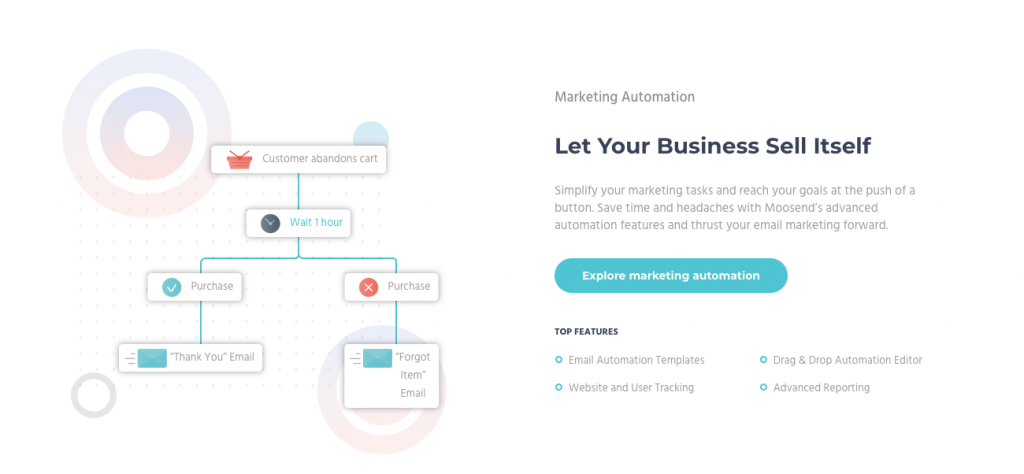 Moosend lets you create automated messages that send out when certain milestones in your project are met – like sending out a thank-you note after someone signs up for your newsletter or an announcement when someone has shared their project on Moosend's Market.
The drag and drop email builder lets you craft highly personalized emails in a few clicks. Just drag and drop elements from the tools panels and edit them according to your need.
The list segmentation helps you to categorize or segment users based on different parameters or behavior.
Pricing: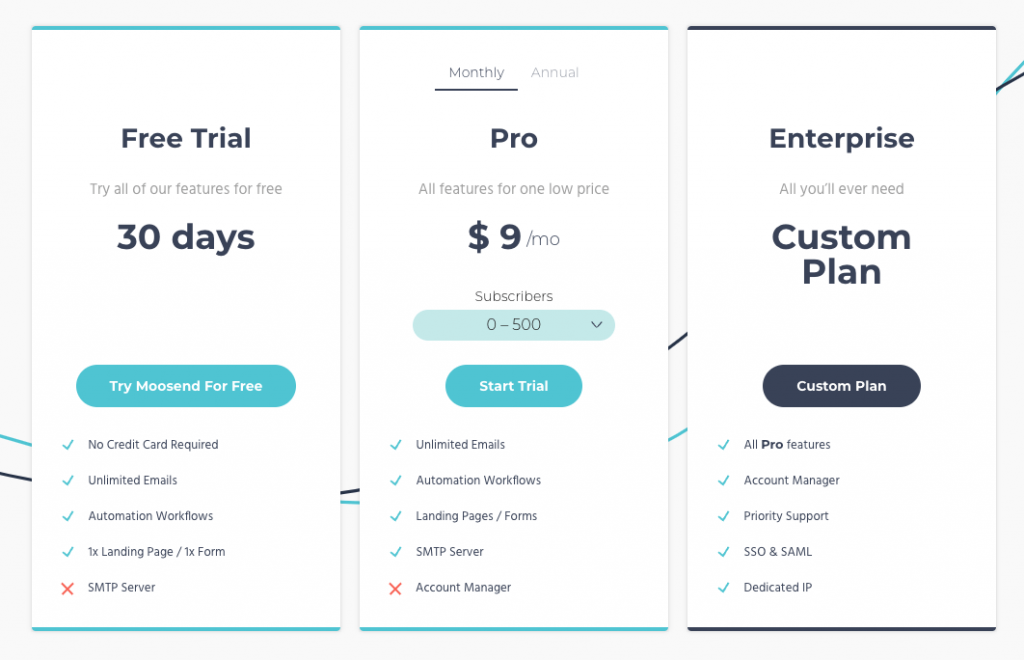 Use the button below to try Moosend free for 30 days. You can store unlimited contacts during the free trial.
7. Mailerlite
Mailerlite is one of the email marketing software in the world to offer a high uptime guarantee. It uses Google Cloud Platform for hosting and this guarantees zero downtime for users.
The free plan lets you add up to 1,000 free contacts and send them bulk personalized emails. Mailerlite lets you create dynamic emails with the help of a drag and drop email builder. You may even use custom HTML while designing a newsletter.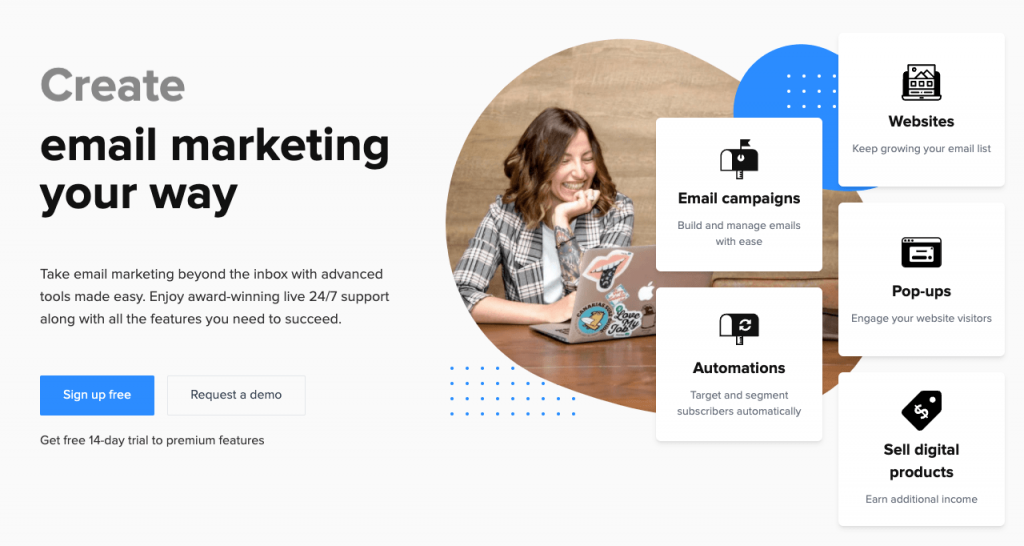 A/B testing, segmentation, and surveys are some features available on Mailerlite that will help you to kickstart your next campaign.
The email automation lets you send emails that boost engagements which contains highly personalized content based on individual users.
If you find any trouble in using the Mailerlite tool, their 24/7 support team is there to assist you anytime.
Price:
Custom prices depend on the number of email subscribers. Features are the same in all plans.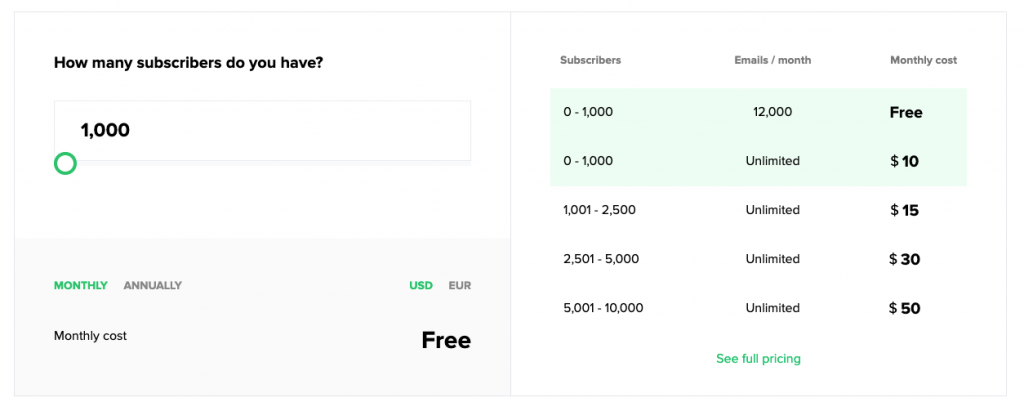 With the 14-day free trial period, you'll be able to find out if Mailerlite is what you're looking for before spending any money on it.
Use the button below to grab your 14 day free trial with access to all premium features.
8. ConvertKit
ConvertKit is a powerful email marketing tool that helps marketers like you send personalized emails at scale with ease and speed amplified by automation.
ConvertKit saves hours of manual labor each week by automatically tagging your contacts based on recent behavior, allowing you to focus on sending better emails instead of manually tagging people one-by-one.

Marketers of all sorts are constantly looking for the best tools to grow their business and generate more sales. If you are a content creator like a blogger then you will definitely find ConvertKit useful.
Pricing:
ConvertKit's pricing is as follows if billed annually.
Creator – $9/month
Cretor Pro – $25/month

9. AWeber
Do you want to be the best in your niche or business and build a powerful mailing list without having to spend hours of your day generating emails and deals? If so, AWeber can help you reach out to more people with each campaign than any other tool available on the market today.
One of the interesting features of AWeber is the Canva integration. You can easily create cool emails via Canva without leaving AWeber.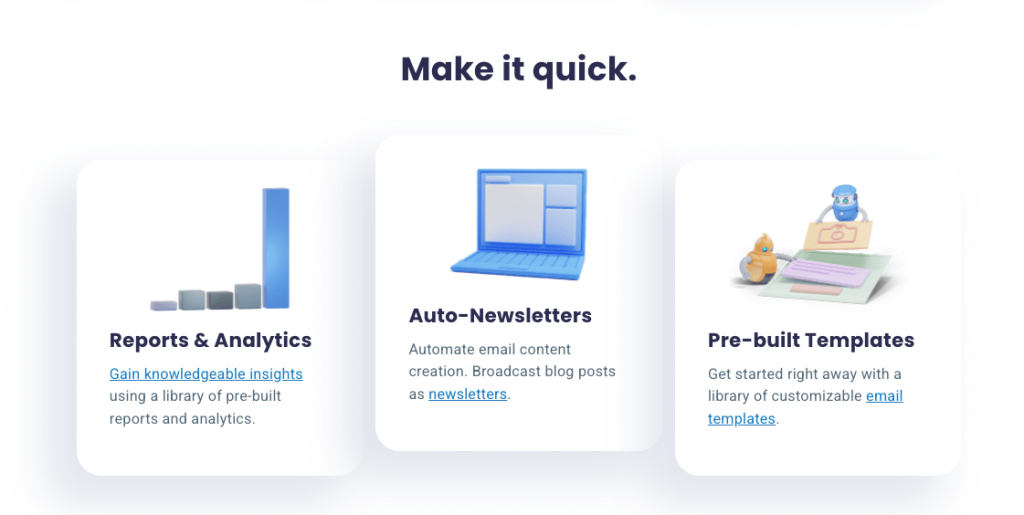 The Autoresponder tool allows you to build a list of people who are interested in what you are offering, and they can sign up in order to get more tips and updates from you.
AWeber comes with a good number of ready-to-use templates to quickly create an email to send. You may customize the template to your liking. AWeber also gives you to option to use custom web fonts as well.
The free plan lets you store up to 500 email subscribers and get access to all features.
Price:
As for the pricing, it depends on the number of email subscribers you have. It starts at $16.5 for 500 subscribers. All plan lets you send an unlimited amount of emails.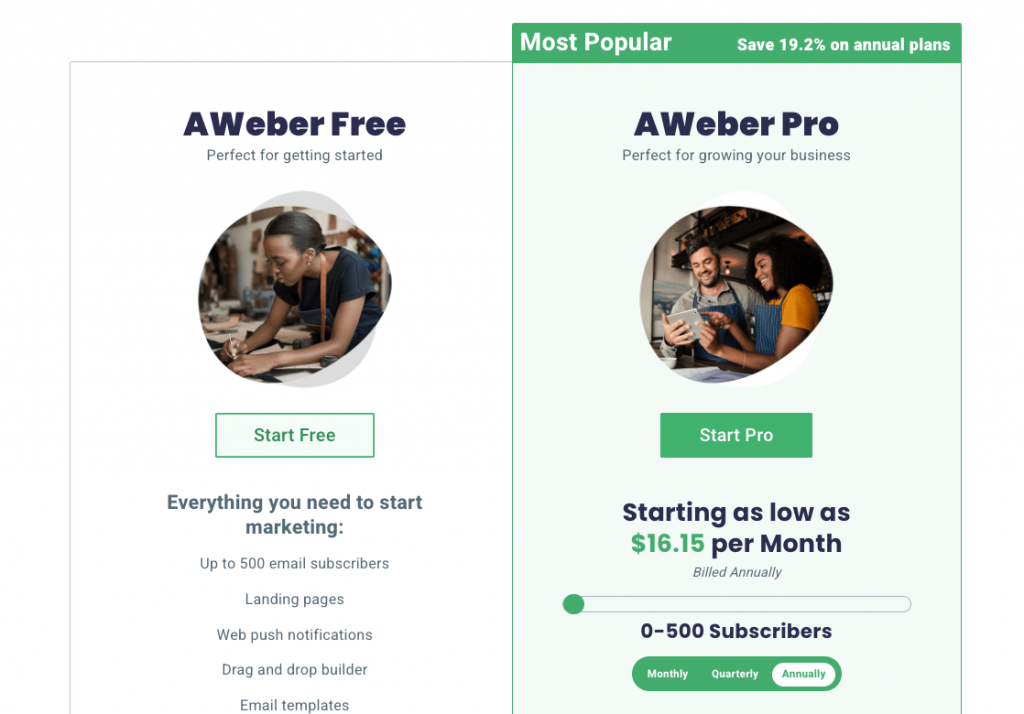 10. Pabbly
Pabbly is an email marketing software designed to help small businesses increase sales. It provides a comprehensive solution for targeted emails that leads to better engagement and higher ROI.
The Pabbly Email Marketing Software makes it easy for even the most inexperienced marketers to send professional marketing messages the right way, on time, every time.
Pabbly makes it easy for beginners to master email marketing. Pabbly is packed with powerful features, templates, and integrations that will have you cranking out targeted emails in no time.
You have the option to integrate Pabbly with most popular SMTPs easily. This means, you can use external SMTP services like MailGun, SendGrid, PostMark, Dyn, Elastic Mail, Amazon SES, etc to send emails.
Pabbly integrates well with more than 300+ other business and marketing applications to automate things.
The dedicated MX Cleaner will look for bad emails and remove them before sending emails. Similar to other software, Pabbly also comes with the option to track email clicks for all campaigns.
Price:
Rookie – $24/month
Pro – $41/month
Advanced – $83/month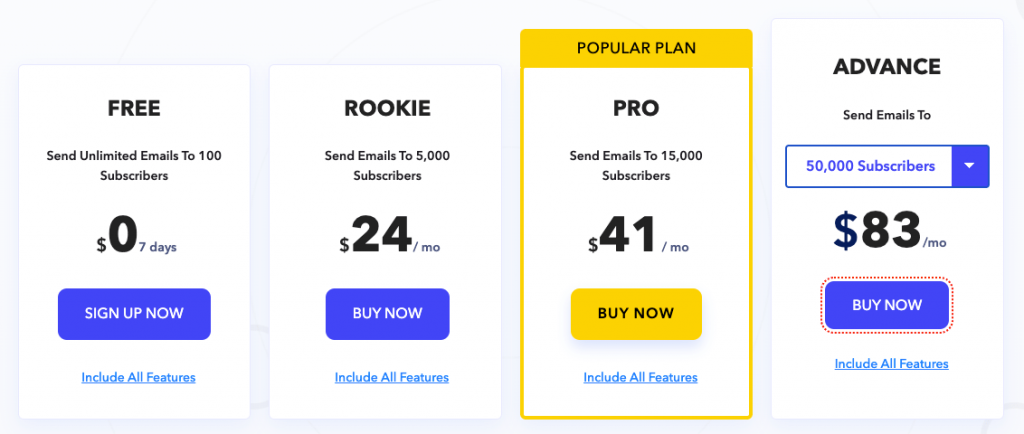 What is a Email Marketing Tool?
An email marketing tool is a software application with comprehensive tools for sending marketing emails via email to a list of recipients. Despite being relatively inexpensive, in most cases, there are features that cost extra.
You can connect your business email with any of these software to start sending emails.
Email marketing tools come in many forms: they can be standalone software or web-based applications; they can be pre-built products, such as ActiveCampaign or Constant Contact.
Almost all email marketing software comes with advanced features like lead scoring, autoresponders, automation, segmentation, personalization, etc to help you with your email campaign.
How to Select the Best Email Marketing Platform?
Choosing the right platform isn't easy. There are a ton of options out there, from enterprise solutions to platforms you can use right in your browser. However, if you're just getting started (or even switching from a different service to try and stay within one platform) it can be hard to know where to start.
Here are some tips to select the best email marketing software:
Set Your Goals: The first step is making sure you have an idea of what you want to achieve with email marketing, so you can align that with what features and functionality each platform offer.
Features Availability: Another key area that you need to focus on is the availability of different features. When it comes to email marketing software, features like automation, personalization, autoresponders, segmentation, etc are must-have.
Pricing: While selecting an email marketing software, make sure to go through the pricing section and the features it has to offer. Compare multiple platforms and go with the one that provides the best value for money.
Integration: Integrating your email market software with various services will help you to automate a lot of things. So, look for software that provides different integration options.
Benefits of using a Email Marketing Software
It is estimated that for every $1 spent on email marketing, the marketer makes about $36 in return. There are many benefits of using email marketing software.
Incredibly low cost for sending email marketing campaigns
Ability to run a large number of personalized messages at one time
Automation options
Unlimited number of subscribers and recipients allowed in one campaign (as per the plan)
Simple setup, with a short learning curve
Why Use An Email Marketing Software?
An email marketing software works by capturing the email addresses of prospective customers, then sending them periodic newsletters and other messages. This is an effective way to keep in contact with your customer base without having to spend money on printing and postage costs.
A marketing platform like this can also help you increase sales by creating a specific automatic message or offer that is only available to customers or prospects who have contacted you via email.
Providing a newsletter with tips on how to best use your products or services, for example, is one way you can nurture your existing customer base while at the same time attracting new prospects.
FAQ on Email Marketing
Here are some frequently asked questions and answers about email marketing.
Which is the best email marketing software?
If you ask me for the best email marketing software, I will pick ActiveCampaign and Constant Contact.
Is there a free email marketing software?
A lot of popular email marketing software comes with a free version.

For example, Mailerlite is free till 1,000 subscribers and Sendinblue's free plan lets you store unlimited email contacts and send up to 300 emails per day.
What is the best time to send emails?
The best time to send emails depends on the kind of audience that you target, their geographical location, their work time, etc.

You can get a better idea about it by using an email marketing software, which will analyze the pattern and suggest you the best time to send emails.
Final Words
To conclude, we believe that email marketing is a vital part of every business. The common knowledge is that email marketing is a powerful tool for almost any business, and because of this, it can be difficult to choose the best option for your organization.
However, we hope that this article has given you some guidance as to what features are important and which features are unnecessary in your decision-making process.
If you ask me to suggest a single option then I would pick ActiveCampaign.