Whether you want to do keyword research, competitor analysis, find link-building opportunities, or rank tracking, Semrush got you covered.
In this full review of Semrush, we will take a look at everything and see how good is Semrush for:
Keyword research
Finding backlink opportunities
Competitor analysis
Off page/on page and technical SEO audit
Rank tracking
Support
Pricing
and a lot more
What is Semrush?
Semrush can be considered as an in-one SEO and digital marketing toolkit that will help you with both on-page as well as off-page SEO. Whether it be competitor analysis, keyword research, backlink analysis, or rank tracking, Semrush got you covered.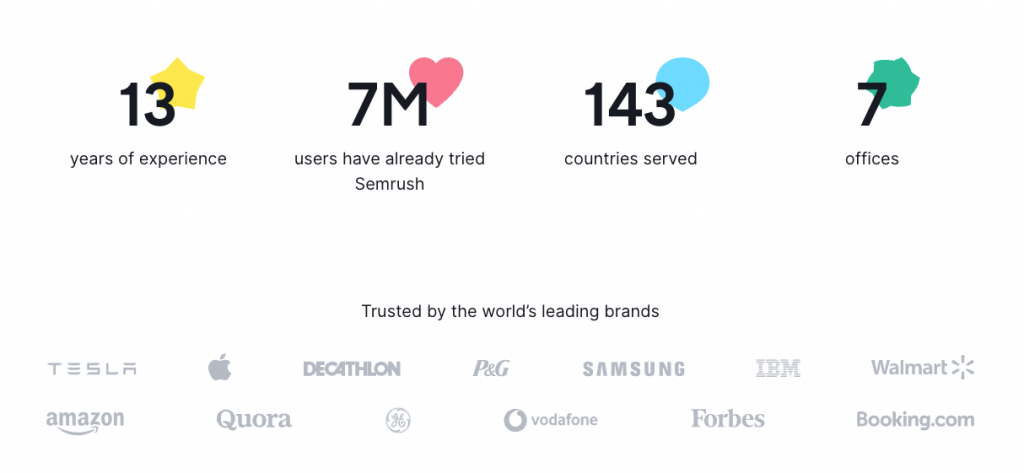 At the time of writing this article, Semrush has over 7 million users and almost 30% of the fortune 500 companies use Semrush for SEO, Content Marketing, Market Research, Advertising, and Social Media Research.
In short, Semrush can help you in:
Increasing your website traffic by performing on page and off page SEO
Find the keywords which people are searching for on Google
Create masterpeice content that ranks on Google
Semrush Sensor to find unusual SERP volatality and Google algorithm updates
Find link building opportunities
Website audit
Technical SEO
These are some of the basic things you can do with Semrush. There is so much more than you can do with 50+ tools on Semrush to increase your website traffic and authority.
Let's take a quick glance at things we could do with Semrush.
Keyword Research: To get traffic, rankings, and sales, you should select the perfect keyword. There is a lot when it comes to keyword researching. One should take care of things like searcher intent, keyword difficulty, search volume, top-ranking pages, CPC, etc and Semrush can show you all these data.
Competitor Analysis: Closely analyzing your competitor's website will give you details like the SEO and content techniques that they use to rank content on Google. Semrush helps you in reverse engineering and applying the same tactics to your website.
SEO Audit: Running an SEO audit will let us know what our site is missing SEO-wise. Technical SEO audits will help your website to get better visibility in search engines and in turn better ranking and traffic. Semrush Bot scans your entire website and returns with results in the dashboard.
Content Creation and Marketing: Semrush's content marketing and content research features will help you to craft the perfect piece of content that ranks high on Google. Semrush will suggest words, and other elements to include in your article to make it rank higher.
Rank Tracker: We should know where our website is currently ranking for given keywords for different countries. Rank tracker on Semrush does just that.
Competitor Analysis using Semrush
One of the best ways to find keyword ideas, backlink sources, and topics is to spy on your competitor. With Semrush, you get information related to your competitor's:
Top performing pages
Top backlinks
Keyword for which they are ranking
Ranking history
Country-wise ranking information
Traffic trend and more
To get started, all you have to do is, open Semrush and enter your competitor's domain in the search box, and hit enter.
Now Semrush will load complete info about that particular website.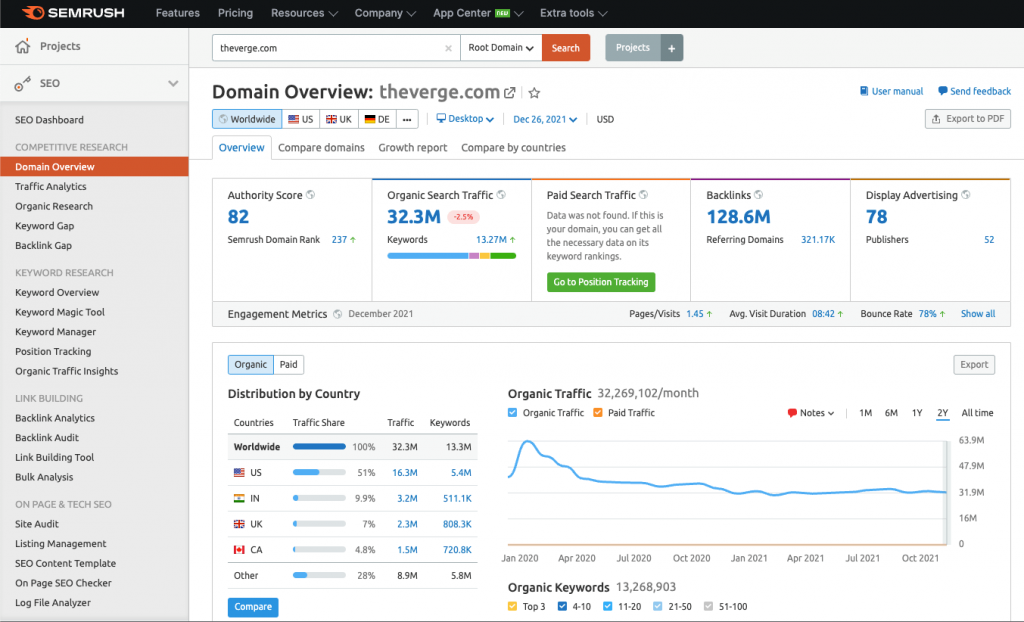 Here are the important metrics and what they mean:
Authority Score: The authority score means the strength of the website's backlink profile. It is similar to Moz's DA and Ahref's DR. Authority Score is Semrush's proprietary rank that takes in various parameters for determining the rank and strength of a website.
Organic Search Traffic: This shows how many visitors does the particular website gets from Google. A website might get visits from various sources like search engines, social media, forums, direct visits, email newsletters, etc, but the Organic Search Traffic section only shows info about visitors from Google.
Backlinks: This shows the total number of backlinks pointing to the site and other pages on the site.
These are some of the many details you can pull from Semrush. Just type any URL in the search box and hit enter to find insightful data.
Keyword Research using Semrush
Having a set of keywords to work with is what you should have even before starting your website. After all, we are trying to rank for keywords in Google, and find the best and easy to rank keywords helps you to easily rank in Google.
Initially, if you are just getting started, there's no point in going after highly competitive keywords as industry-leading authoritative websites might be already ranking for the same. Outranking such high authority sites is not practical initially.
Keyword Magic Tool
There is a tool called Keyword Magic Tool in Semrush which will help you to find tons of potential keywords that you can rank for. All you have to do is just enter the broad search term in the Keyword Magic tool and Semrush will suggest related, exact match, phrase match keywords.
I entered the seed keyword 'laptop'. And as you can see from the screenshot, Semrush displayed all keywords that have the term laptop and keywords related to laptops.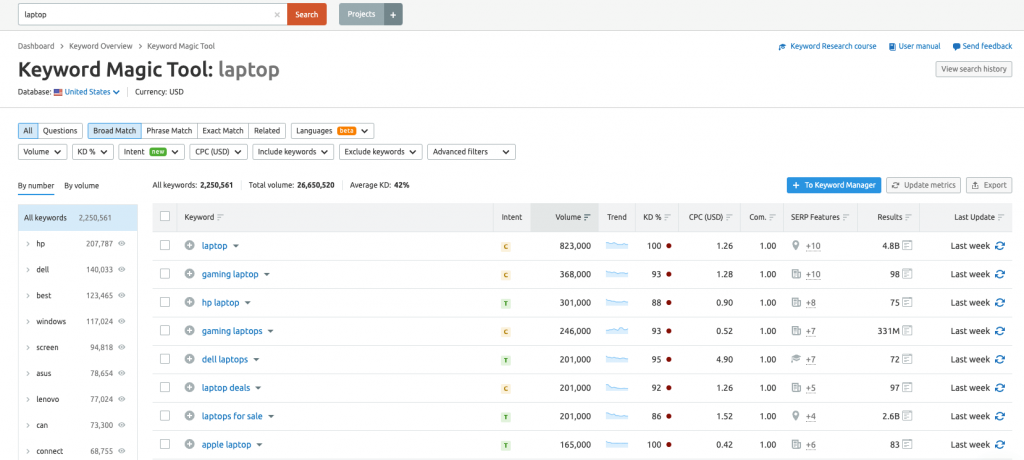 Let's say that you are starting a new website on the topic Pets. To plan content and find keywords to write about, you may use the Keyword Magic Tool from Semrush.
As soon as I entered the main keyword, Semrush suggested thousands of other keywords about which I can write content.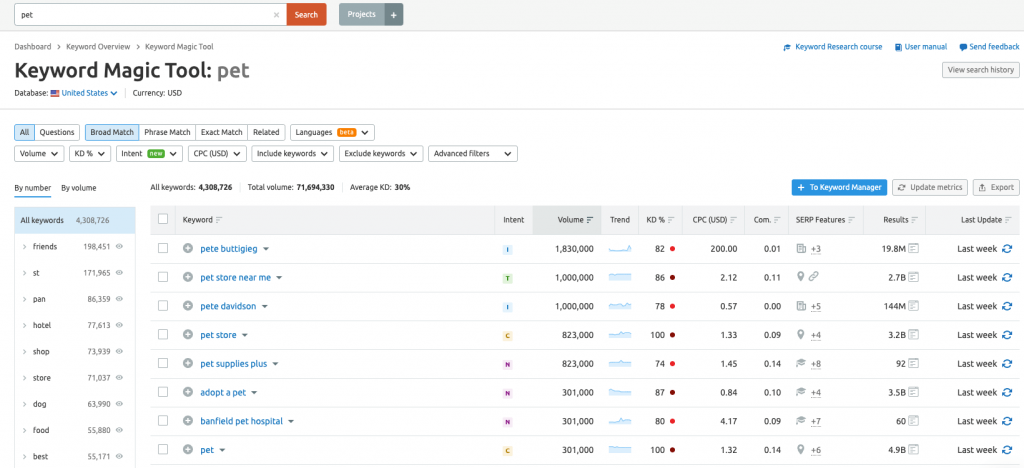 Semrush shows various data regarding every keyword like:
Intent: The searcher intent of the keyword. Informational, transactional, navigational, etc are few examples of searcher intent.
Volume: Shows the average search volume for that keyword on a monthly basis. (The search volume is just an approximate data which need not be correct always).
Trend: Search trend over the last years.
KD%: Shows the keyword difficulty. If the top ranking pages have more number of backlinks and or if they are authority sites then the KD value tend to get higher. It gives a rough idea about how easy will it be to rank for that keyword.
CPC: Cost per click, amount that advertisers are willing to spend for a single click on ads related to that keyword.
Competitive Density: Level of competition between advertisers bidding on a given keyword.
SERP Features: What kind of results are displayed in the SERP. Knowledge panel, site links, reviews, FAQ, etc are examples of SERP features.
Results: Total number of results that Google shows for that given keyword.
Last Update: The time when a given keyword was updated in Semrush's database
Find Questions based Keywords?
It's always better to post some informational articles first. Even if you are starting an affiliate website, having some informational articles on your website will help you get some traction.
The Questions option under Keyword Magic Tool will help you discover questions for which you can write an article.
Head over to the Keyword Magic Tool and pop in the seed keyword. Now select the Questions option and Semrush will show you questions related to the topic you entered.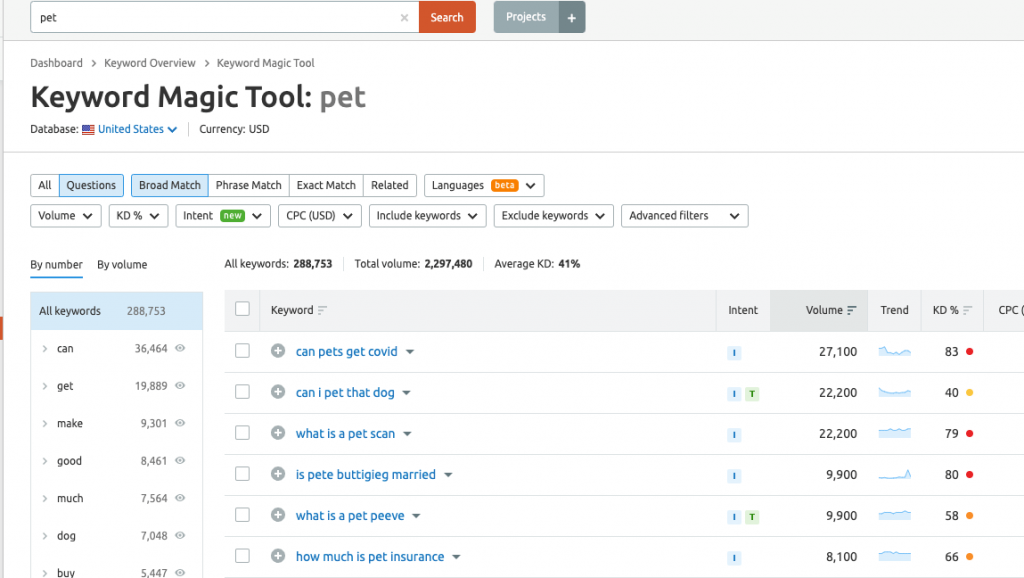 In the example above, I entered pet and Semrush suggested me questions like:
Can pets get covid?
How much is pet insurance?
What is a pet scan?
And more.
Targetting questions based keywords have some advantages over others such as:
They tend to convert better since visitors are looking for a solution or info about something specifically
Comparitively easy to rank when compared with other types of keywords
Easy to acquire backlinks
Rank on position #0 [Featured snippet]
Also, make sure not to select keywords with more than 1000 searches per month as those keywords might be already topped by medium to high authority websites. It is always better that you analyze the SERP and take a look at the websites ranking at the top.
Two things to note are:
Select keywords with less than 1000 searches per month
Analyze top 10 ranking page and determine whether you will be able to make it to there eventually
Keywords Analysis
Keyword Magic Tool is a simple and handy tool that will give you keyword ideas based on the topic you entered. If you want to get more insightful data about individual keywords then you may directly enter the same into the search box and hit enter.
For example, I searched for the term 'Blogging platforms' in Semrush, and here are the details I got.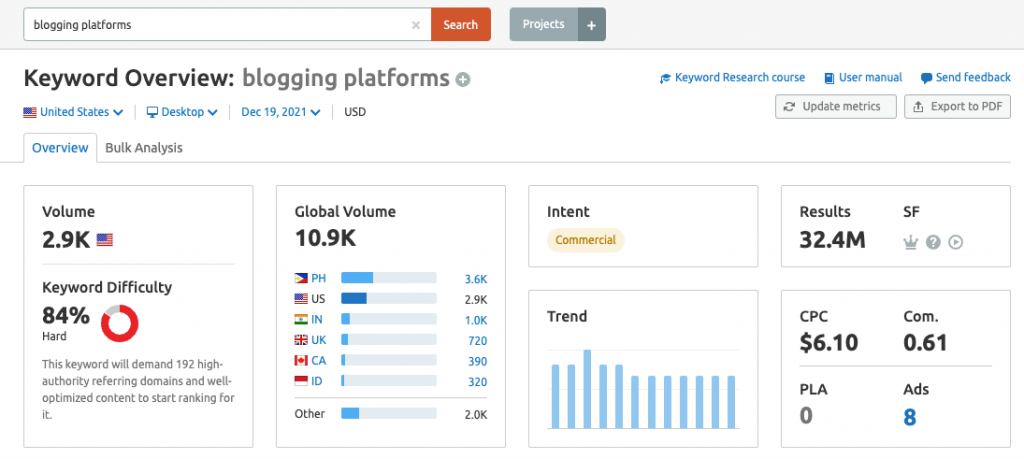 It shows:
Total search volume by country
Global search volume
Intent
CPC data
Keyword variations
Related keywords
Questions
Ad copies
SERP Analysis
and more
As soon as you enter a keyword, Semrush will display various metrics which will help you to decide whether or not to work on that particular topic.
You can enter a broad topic related to your niche and find sub-ideas as well.

This way you can generate multiple article ideas from a single seed keyword. Repeat the same process for various other topics and you will end up with a huge list of keywords.
Link Building with Semrush
Backlinks are the one that decides your authority and ranking in search engines.
Backlinks are links from other websites that point to yours. Higher the number of good quality backlinks pointing to your website, the easy it is for you to rank on Google.
Semrush's backlink checker tool helps us to find backlink opportunities. It is as easy as entering one of our competitor's website URLs and Semrush will show all the links pointing to the site.
By analyzing who is looking to your competitor's website, you can develop a solid backlink acquisition strategy. If a website is linking to your competitor then chances are, you can get a link to your website as well.
Type in a website URL and click on the Backlinks button.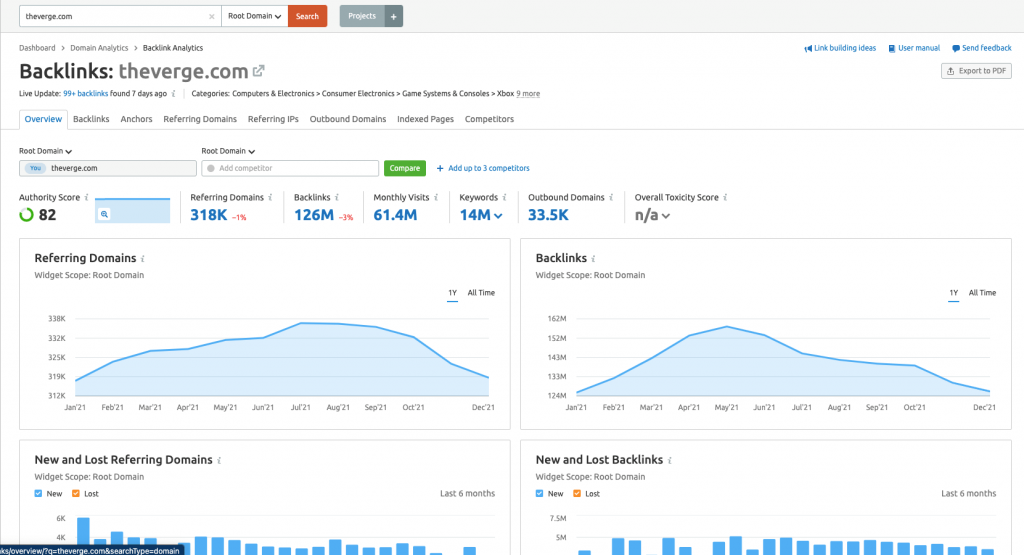 There are various tabs under the Backlinks section and they are:
Overview page
Backlinks – All links point to the site/webpage
Anchors – Exact anchor texts that links to the page
Referring Domain – Unqiue domains linking to the page
Referring IPs
Outbound domains
Indexed Pages
Competitors
Under the Overview tab, you can get information like the Authority Score of the website, the total number of backlinks, referring domains, Outbound domains, and the graph showing the backlink acquisitions over time.
To see all the individual web pages linking to the website, move on to the Backlinks tab.
At first, it will show you quick information like Backlink Type and Link Attributes.

Scrolling down, every link will be listed with details like Authority Score, Number of External Links, Number of Internal Links, Target Anchor, and URL, First Seen and Last Seen date.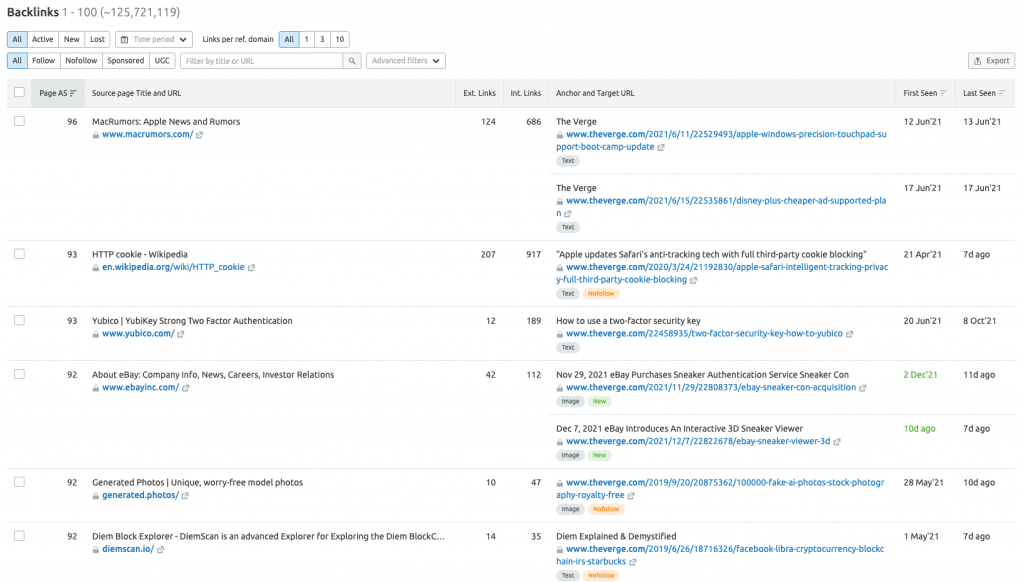 Info:
There are two types of Backlinks: Nofollow and Dofollow. Only Dofollow links pass link juice. This means no-follow links have little to no effect when it comes to search engine ranking. They might be good at bringing referral traffic.
Since we are looking for Dofollow links to acquire, use the filter option to only show Follow links.

We can also filter and sort links by All, Active, New, and Lost.
Semrush also provides is with the option to export backlinks reports as Excel or CSV files. Click on the Export button from the top left corner to export the data in the specified format for later use.
To get details about the referring domain, click on Referring Domains. It will show you the list of all websites linking to the specific website. It will show the number of backlinks the site has from different pages on the linking website.
Backlink Gap Tool
Yet another interesting tool that I found super useful is the Backlink Gap Analysis Tool.
There might be websites linking to multiple of your competitor's websites but not to yours. If a website is linking to multiple websites in the same niche then chances are, you can reach out to them and get a backlink to your website too. This is where the Backlink Gap tool comes into play.
Just open up the Backlink Gap tool and enter your domain first and then your competitors' domain. Click on the Find Prospects button and BOOM.

Semrush will now display all the prospects for the specified query.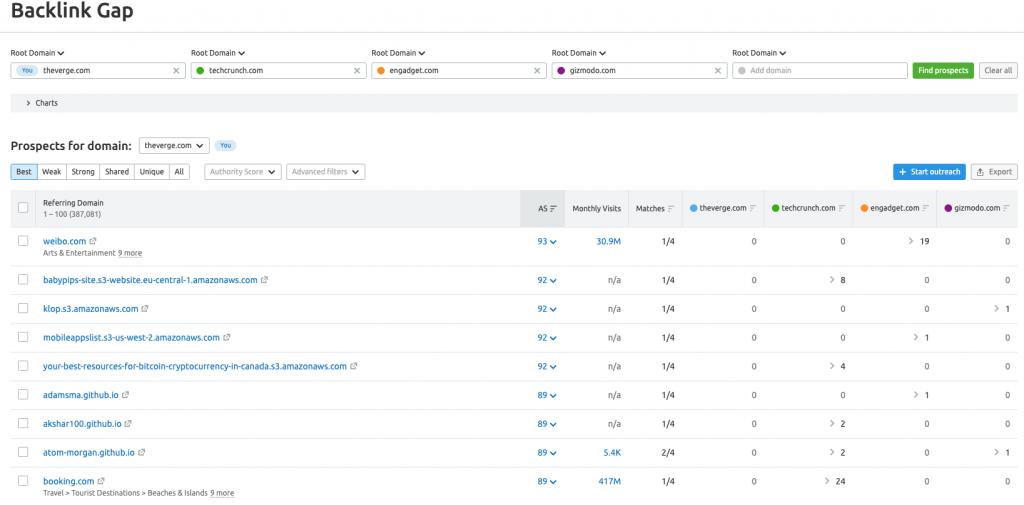 Semrush Site Audit
Site Audit is a Semrush tool that will scan your website for more than 130+ technical and SEO mistakes.
It includes:
Loading speed
Crawlability
Content issues
Meta tags
HTTPS security protocols
Internal linking
JS and CSS errors
AMP implementation
Crawling will take some time depending on the number of pages a website have. Once done, it will show details like Pages crawled, Site Health, Errors, Warnings, Site Performance and more.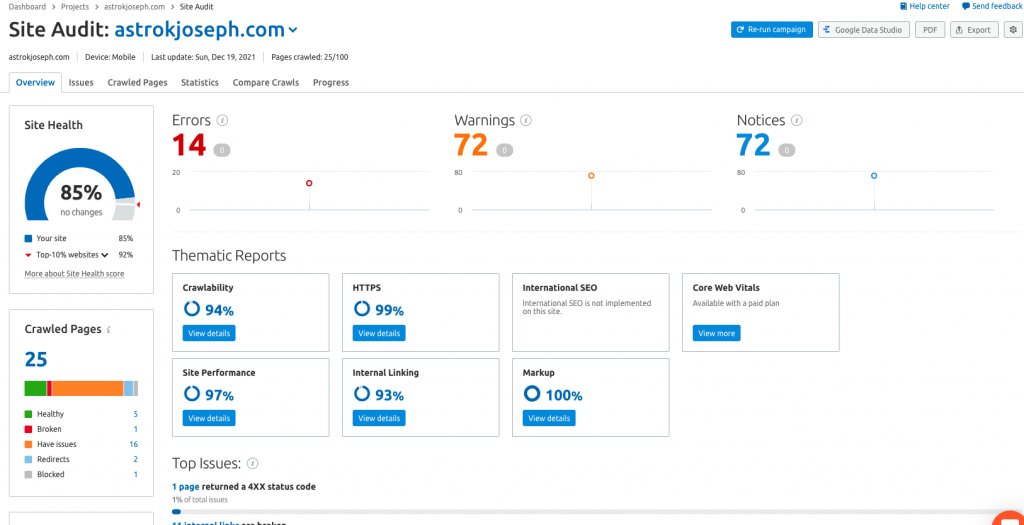 Once the report is generated, you can go through them one by one and start fixing the same. There might be certain errors that are stopping Google bots from effectively crawling your website and details regarding the same can be obtained from here.
Pros and Cons of Semrush
Here is a list of Pros and Cons of Semrush to decide whether or not should you use it.
Pros of Semrush
Combines multiple SEO tools into a single suite
Constantly updated and very huge backlink database
Best for reverse engineering your competitors for finding keywords and backlinks
Site Audit to find issues related to your website
Track your website's search engine rankings
Get accurate CPC data
Estimate the traffic a website gets
Keyword data updated frequently so you get fresh report always
Great UI
Cons of Semrush
Learning curve: Semrush combines the features of multple standlone SEO tools into one. So there are tons of features and options that you need to famirize and it will take some time for you to get used to Semrush
Can be confusing for new users
Semrush Plans and Pricing
Now let's take a look at various Semrush plans and pricing and compare them with other SEO tools in the industry.

There are mainly 4 plans and they are:
Pro – $119.95/mo
Guru – $229.95/month
Business – $449.95/month
Now let's take a deeper look into all three different plans:
Semrush Pro Plan
Projects: 5
Keywords to track: 500
Results per report: 10000
Reports per day: 3000
Keyword metrics updates: 250
Pages to crawl: 100000
SEO Ideas Units: 500
Semrush Guru Plan
Projects: 15
Keywords to track: 1500
Results per report: 30000
Reports per day: 5000
Keyword metrics updates: 1000
Pages to crawl: 300000
SEO Ideas Units: 800
Semrush Business Plan
Projects: 40
Keywords to track: 5000
Results per report: 50000
Reports per day: 10000
Keyword metrics updates: 5000
Pages to crawl: 1000000
SEO Ideas Units: 2000
Annual Plan to Save 17%
If you plan to use Semrush for a longer period of time then it is better to go with an annual subscription as you will end up saving about 17%.

If billed annually, the effective per month price of plans drops to:
Pro: $99.95/mo
Guru: $191.95/mo
Business: $374.95/mo
Final Verdict: Should You Get Semrush?
Semrush can definitely be your go-to SEO and digital marketing toolkit. With over 50 plus tools in different categories, Semrush is a suite of tools to help you grow your online business. I use a combination of both Ahrefs and Semrush to get things done and it works for me really well.
If you are after an all-in-one tool that can solve all your SEO-related tasks right from content creation to marketing and everything in between then Semrush is what you are looking for.