According to experts, Google rolls out more than 500 to 600 search ranking algorithm updates every year. This means, on average, 2 updates are rolled out every single day. The magnitude of the impact of these updates varies a lot depending on various factors.
Semrush Sensor is a free tool that will help us to keep track of Google algorithm updates. Even though hundreds of updates take place in a year, a only couple of them is officially acknowledged by Google.
This is where Semrush Sensor comes into play.
Semrush is a digital marketing and SEO toolkit that comes with more than 50 tools to improve Google ranking and traffic to your website. The sensor is a part of Semrush's 50+ tools to use.
In this article, you will find complete information about Semrush Sensor, how it works, and an ultimate guide on using Semrush sensor to keep track of Google algorithm updates.
What is Semrush Sensor?
Semrush Sensor is part of 50+ SEO tools available in the Semrush toolkit. It is a handy tool that will let us know about any possible Google algorithm updates.
It basically helps us to measure the SERP volatility. (It analyzes the ranking volatility and then comes up with a score from 1 to 10 that shows how powerful and volatile was the update.)
You can get volatility details of a specific niche, country, or device only. At the time of writing this article, Semrush covers about 8 databases for Google and 1 for Baidu in China.
Now that you have some idea about Semrush Sensor, let's see how it works.
How Semrush Sensor Works?
As mentioned earlier, Semrush Sensor is a tool that shows us the impact of an ongoing algorithm update on Google.
Semrush Sensor displays the sensor score based on the volatility of the ranking pages. Whenever a search ranking algorithm takes place, a huge number of results are rearranged in Google's database.
If a very huge number of results are affected as a result of the update then the score will be very high otherwise low to moderate.
The score ranges from 1 to 10. Usually, anything above 5.5/10 shows signs of small movements. And as the number goes up, it shows the impact of updates is high.
Do you want to increase traffic to your website by at least 5x? Use Semrush for keyword analysis, backlink building, content planning and more. Read our Semrush review to find more. Get 14 days free trial by clicking here.
How To Use Semrush Sensor?
Now that you know what is Semrush Sensor and how it works. Let's see how to use the tool properly to analyze Google algorithm updates or SERP volatility.
As mentioned earlier, Google does not inform us about all algorithm updates, but we can use Semrush Sensor to find any non-disclosed Google algorithm updates.
Database
Different algorithm updates will have different effects on different countries. This means the magnitude of the impact of the same algorithm update might be different in different regions.
For example, if an algorithm update shows a sensor score of 6.6 in the United States, it might be 7.6 in the United Kingdom and vice versa.
Semrush Sensor comes with 8 databases for Google index and one for Baidu search engine.
Clicking on the Database option will let you select the region for which you want to view the data.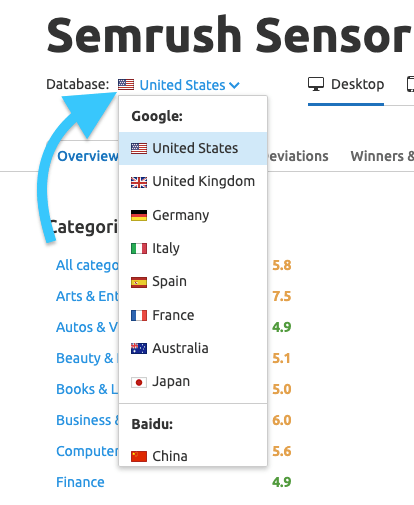 Here is the list of all available databases for Google:
United States
United Kingdom
Germany
Italy
Spain
France
Australia
Japan
It also has a database for Baidu in China. (Baidu is the most used search engine in China)
So, the very first thing you want to do is to select the database for which you want to analyze the score. If you have visitors span across multiple countries, you may analyze them one by one.
Platform – (Mobile/Desktop)
Google rankings for a given keyword differ a lot from Mobile devices to Desktop. The search results will be optimized for smartphones and desktops and for the same reason, if you perform a Google search for a keyword on smartphone and desktop, you will find slight changes in the order of ranking pages.

So, to track things even more concisely, Semrush Sensor allows us to select between Desktop and Mobile. If the number of visitors to your website is more from mobile/desktop devices then you may switch between these options to find more accurate information.
Find Historial Update Details
Semrush stores information about all Google algorithm updates in its database. So you can select a specific date and view data for that day only.
Just click on the date selector and choose a date of your choice from the calendar. Now, the whole data will be based on that particular date.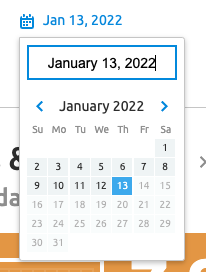 Semrush Sensor Overview
Under the Overview tab, you first need to select the category for which you want to view the data.
There are about 25 categories in Semrush Sensor. You have the option to filter details about only a particular category. Or if you want to get a general idea about what's happening then click on All Categories.

You need to select the Category of your website. If you are unsure about the category, hover over the "i" button next to the category name to find some sample keywords. This way you can accurately find the category to which your website belongs.

Next to the Category, you will find the Semrush Sensor score for that day.
Now comes the main Semrush Sensor widget.
It shows the score and small info about the impact.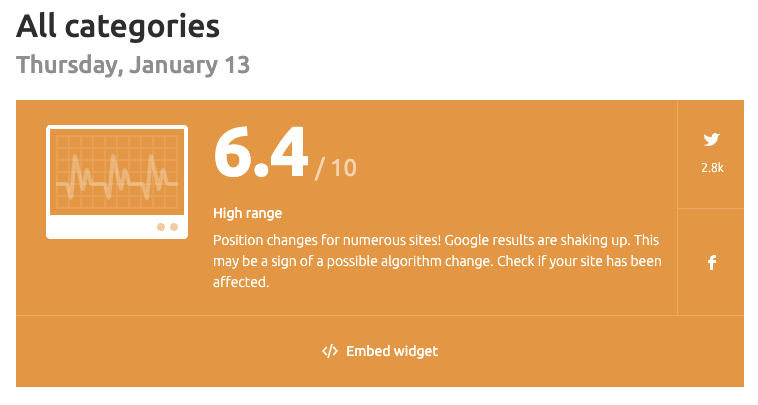 For example, today, the score for all categories is 6.4 out of 10.
Score 6.4/10 (High range) – Position changes for numerous sites! Google results are shaking up. This may be a sign of a possible algorithm change. Check if your site has been affected
All categories score is basically the average score of all individual categories combined together.
As you can see from the screenshot, for the Health category, the score is just 4.3/10 which means things are usually as they should be.
Score: 4.3/10 (Normal range): Another ordinary day. Although some sites experience insignificant rankings changes, this is most likely because these sites or their backlink profiles are being updated. There is nothing to worry about.
But for the Jobs & Education category, the score is 8.5 out of 10 which shows it is heavily volatile.
Score: 8.5/10 (Very High range) – There're constant and massive tremors on Google search results, suggesting a significant algorithm update. It's time to check if your site is going up/down.
SERP volatility for the last 30 days
Just beneath the Semrush Sensor widget, you will find a graph about the SERP volatility for the last 30 days. You can find a general trend about that particular category from the graph.
Blue region – Low impact
Green region – Normal
Orange region – High impact
Red region – Very High impact
Clicking on any point in the graph will change the whole data to that particular date.
SERP Features Volatility
This section shows the details about SERP features volatility of top 20 search results.
Featured Snippet, Local Pack, Knowledge panel, Top stories, Instant answer, Top ads, etc are a few examples of various SERP features.
Changes in the number of SERP features on the search results page are shown here.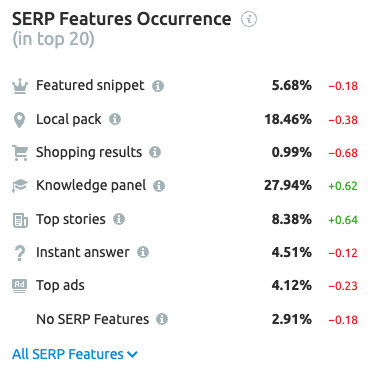 Clicking on the All SERP Features button will further reveal other options like Carousel, Site links, Reviews, People also ask, etc.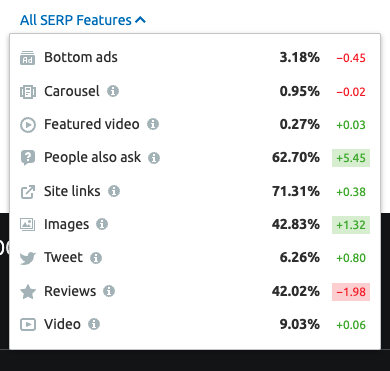 To find the trend about a single SERP feature, just hover over the name and click on the graph icon.
It will now show you the trend of that particular SERP feature in the selected category.
HTTPS Usage
This section simply shows the number of websites using HTTP and HTTPS in the top 10 results and top 20 results.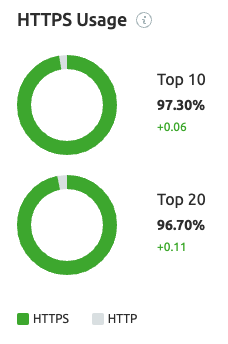 HTTPS is officially a ranking factor that will give you a slight edge over other websites not using HTTPS.
Compare
Semrush Sensor also allows us to compare the SERP volatility for the last 30 days with other parameters like:
Database
Device
Category
Project
SERP Feature
HTTPS Usage
For example, you can compare details between two categories or two different databases for a given category.
Personal Score
In order to get a personal score about your website based on the changes in keyword rankings, you need a paid Semrush plan. (You only get basic details in the free plan)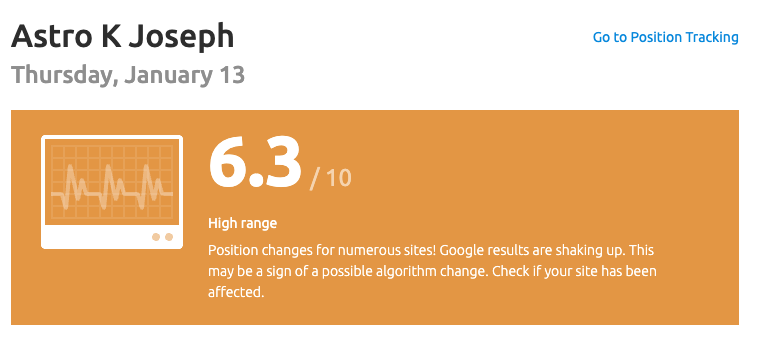 But don't worry. Just click here to enjoy 14 days free trial of Semrush.
Deviation
As per Semrush, Deviations are calculated as the difference between volatility for a certain day and average monthly volatility. Thus it helps you to understand, which categories were relatively more unstable on a given day. For example, News is an extremely volatile category overall, but it may happen that on the day of the update it did not see as much additional volatility as other categories.
In simple words, Deviation will help you to find which categories were more unstable on a particular day.
You can get dedication data for all individual categories.
Winners & Losers
Finally comes the Winners & Losers section.
This section basically shows the websites that gained more rankings or lost more rankings during a day.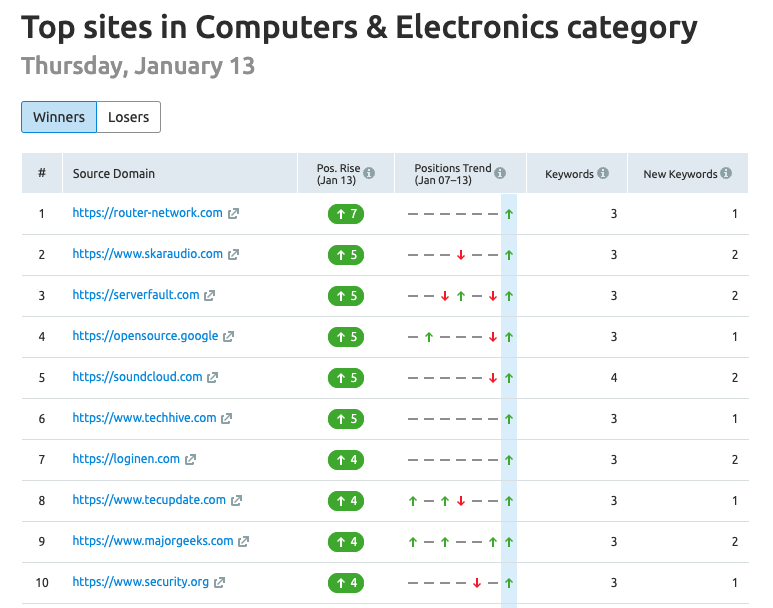 This data is calculated on the basis of the average movement of URLs in the top 20 (first two pages of Google search results)
You can find winners and losers from all categories individually or from all of them in a single go as well.
Get Notified About Google Algorithm Updates
Another interesting option in Semrush Sensor is Email Notification and Browser Push Notification.
If you want to get data regarding unusual movements in the SERP then make sure to subscribe to Sensor notifications.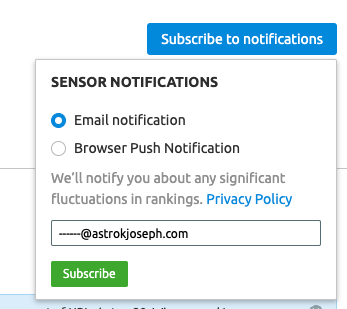 This will notify you whenever there is a Google algorithm update or unusual volatility in the SERP.
Is Semrush Sensor A Reliable Tool?
Yes, Semrush Sensor helps us to get needful data about various Google algorithm updates. Sometimes, even without an algorithm update, the SERP might get too volatile and Semrush Sensor helps us to find that.
Semrush Sensor analyzes the movement of URLs in the search results page to find the magnitude of the update and then shows it on a scale of 1 to 10.
If you want to get a personalized Sensor score for your website and access to 50 plus other SEO and digital marketing tools, then make sure to try Semrush with 14 days free trial.