Get Jasper AI free for 5 days with 10,000 words free credit. Use the free credit to write long form blog posts, marketing copies, headlines and more.
Have you ever thought of writing a 3,000-word long article in less than an hour? Meet Jasper, the only AI writing only you will ever need,
Jasper AI is one of the best AI content generator tools that can write blog posts, marketing/ad copies, editorials, and other articles automatically in just a few clicks.
Chances are, you might already know a lot about Jasper and what it does. If not, make sure to read our full Jasper AI review with examples and demos.
In this article, you will find more about Jasper AI free trial that will give you instant access to Jasper. You get 10,000 words of free credit that you can use to write long-form blog posts, ad copies, etc.
How to Get Jasper AI Free Trial with 10,000 Words?
Go through the steps mentioned below and get your Jasper account ready with 10,000 words credit. It is as simple as registering a new account using the link given below and you are all good to go.
Step 1: Go to Jasper AI Trial Page to claim your free trial.
Step 2: Open the link and click on the 'Claim 10,000 Words Free' button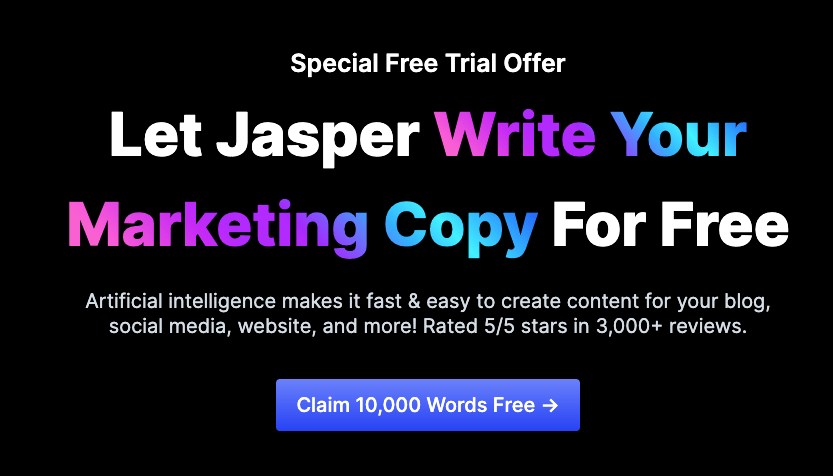 Step 3: Now, you need to create a new account on Jasper. You can either continue with your Google account (one click login) or enter your First name, Last name, Password and Email address manually to create an account.
Step 4: Next, we need to verify the account. Login to your Email account and copy the 6 digit verification code. Come back Jasper AI and paste the same in the field provided.
Click on the Verify button
Step 5: Now you need to enter some basic details about your business like Company name, domain, how do you plan to use Jasper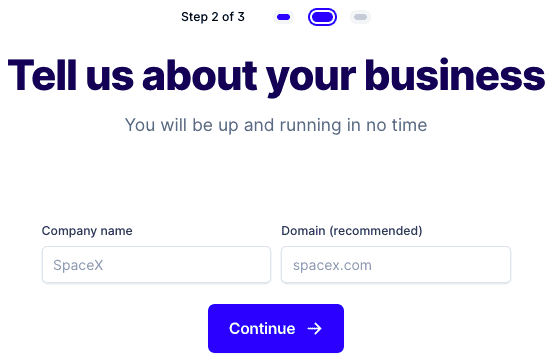 You need to complete the captcha to fully verify your account.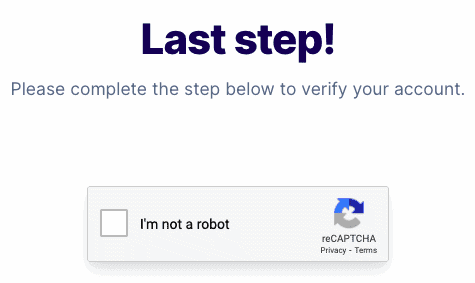 Step 6: It's time to pick a plan. You get 5 days free trial with 10000 words credit on both Starter as well as Boss Mode plan.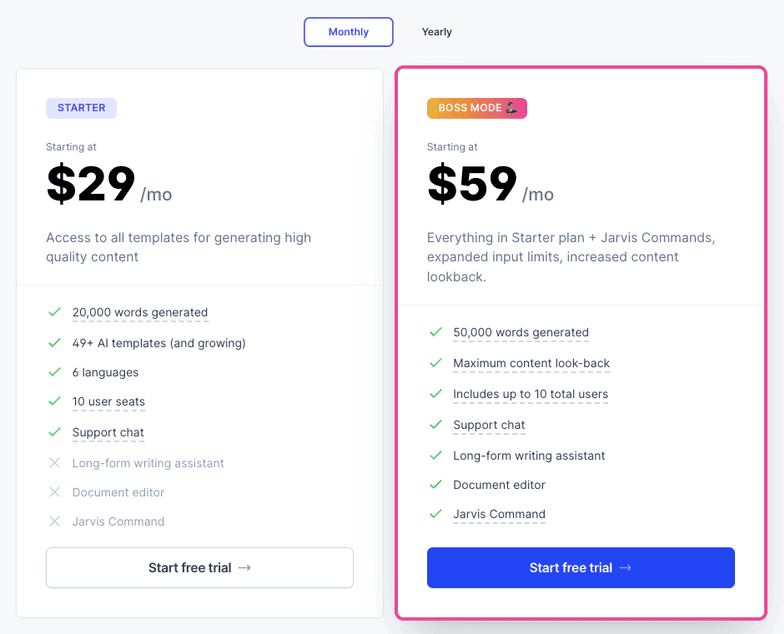 If you plan to create long form content like blog posts and other wordy articles then go with Boss Mode or choose as per your requirements.
Click on the Start free trial button
Step 7: Enter payment details and click on Start trial button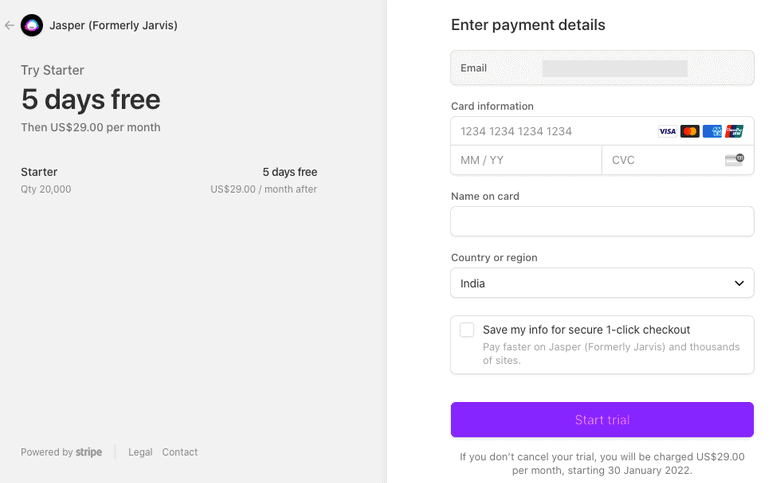 You won't be charged until your trial period ends. You may quit the free trial and Jasper won't charge you anything.
This is how easy it is to claim your 10,000 words free credit on Jasper.
Jasper AI Coupon Code
A lot of people are asking if there's any coupon code that they need to use for claiming the free trial. Well, you don't need to do. All you have to do is just click on the link given below and the free trial will be activated automatically once you successfully complete the sign process.
Why Choose Jasper AI?
As of now, there are only very few number of AI writing tools that are capable of writing complete article from start to end. Jasper AI is one of powerful and most popular AI writing tool to use in 2022.
All thanks to the advanced artificial intelligence and machine learning tech, Jasper is able to create high quality and unique content in a couple of clicks. The best part is that Jasper does not write plagiarized or duplicate content. Everything Jasper writes is unique
Now let's go through some features of Jasper.
Highlighted Jasper AI Features
Here are some highlighted features of Jasper that makes it different from other tools in the market.
50+ Templates
Jasper comes with a wide variety of templates that you can use in a single click. You can select any of these template based on the use case
Blog post outline, content improver, AIDA framework, PAS framework, etc are a few templates to choose from.
Offers a free Trial
Jasper offers everyone a free trial for 5 days. 10,000 words free credits is included in the free trial. You may use this credit to write content using Jasper.
25+ Language Support
At the time of writing this article, Jasper supports over 25+ different languages.
Long Form Content
Are you looking for an AI writing to write long form contents like 3,000 words or more? If yes, Jasper got you covered.
SurferSEO Integration
Another interesting feature of Jasper is the SurferSEO integration. A lot of you might be already aware of SurferSEO. SurferSEO let's you SEO optimize the article as your write and the best of all, it's built right into Jasper AI.
Jasper AI Pricing
As for Jasper pricing, there are two plans available as of now. You may select one depending on your use case.
The first one is Starter plan and the other one is the most feature rich BOSS Mode.
In short, Starter plan is for people who want to write short copy like headlines, unique tweets and descriptions, etc and Boss Mode is for who are looking to write long form content like blog posts, stories, reports, etc.
Here's a quick comparison between Starter plan and Boss Mode plan.
| | |
| --- | --- |
| Starter | Boss Mode |
| 20,000 words/mo | 50,000 words/mo |
| 50+ AI Copywriting Skills | Long-Form Documents |
| Unlimited Projects | Blog Post Creator |
| Unlimited User Login | Command Jasper |
| $29/mo | $59/mo |
Jasper AI Trial FAQ
Let's see some frequently asked questions about Jasper AI free trial. Read to clear all yor doubts.
What is Jasper AI?
Jasper AI is a GPT3 AI technology based content writing tool that can write articles for you automatically.
What Does Jasper Do?
Jasper AI tool is capable enough to write long form blog posts, marketing copies, emails, reports, ad copies, headlines, etc for you with a click of a button.
Does Jasper Plagiarize?
No, the content produced by Jasper AI is 99.99% unique and plagiarism free. You can be rest assured that Jasper does not produce duplicate content.
Does Jasper AI Offer Trial?
Yes, Jasper AI offers a free trial for 5 days with 10,000 words free credit. You may use this credit to write long form blog posts and other content.
Jasper AI Trial 2022: Final Words
Jasper AI is definitely a great AI writing tool that can help you in your everyday content writing activity. The feature that I use a lot in Jasper is the longform content creation option. With this option, I am able to create a 2,000 word long article in less than an hour.
If you are not sure whether you should get Jasper or not then I would recommend you to first try Jasper free for 5 days using this link. The 10,000 words free credit will be more than enough for you to try various features offered by Jasper AI.